Choose the location that's right for you.
Below is a list of all our Cleo State Bank locations. Find the location that's most convenient for you today!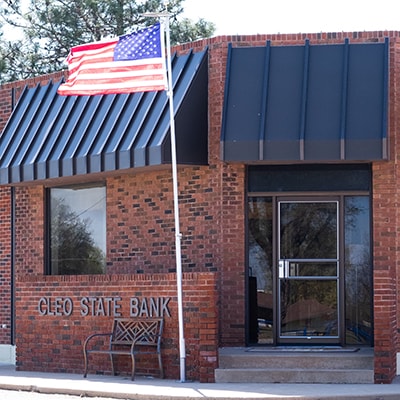 Cleo State Bank
202 South Square | Cleo Springs, OK 73729
1.580.438.2223
1.580.438.2225
Night Depository Available
Lobby:
Mon-Fri 9:00 to 12:00 and 1:00 to 4:00
Drive Thru:
Mon-Fri 8:00 to 4:00.
Staff:
- James Fuzzell II: Executive Vice President, COO/Branch Manager/Loan Officer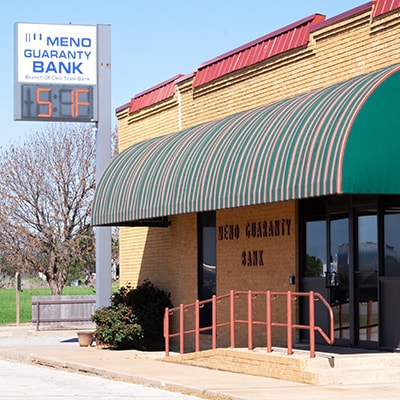 Meno Guaranty Branch
Highway 412 and Main | Meno, OK 73760
1.580.776.2257
1.580.776.2259
Night Depository Available
ATM Available at Ampride at 501 Hwy 412 in Meno, Ok
Lobby:
Mon-Fri 9:00 to 4:00
Drive Thru:
Mon-Fri 7:30 to 4:00
Staff:
- Toby Goss: Branch Manager/ Loan Officer
- Lisa Fuzzell: Vice President/Loan Officer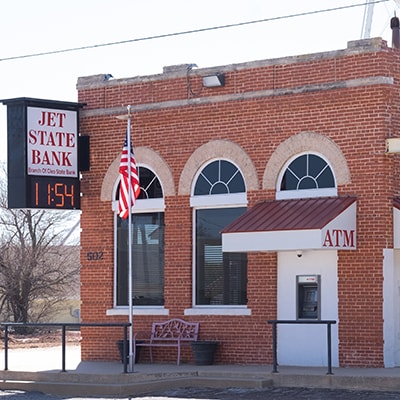 Jet State Branch
502 Main | Jet, OK 73749
1.580.626.4434
1.580.626.4530
Night Depository Available
ATM Available
Lobby:
Mon-Fri 9:00 to 12:00 and 1:00 to 4:00

Staff:
- Forrest Michael: President/ Branch Manager/ Loan Officer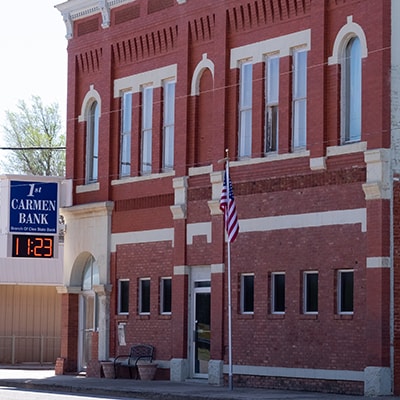 First Carmen Branch
401 West Main | Carmen, OK 73726
1.580.987.2238
1.580.987.2237
Night Depository Available
Lobby:
Mon-Fri 9:00 to 12:00 and 1:00 to 4:00

Staff:
- Lisa Fuzzell: Vice President/ Branch Manager